146 Watt Vertical wind turbine

Compare to 40 watt solar panels


In 28MPH winds it can produce 50% more electricity than a 100 watt PV panel which sell for up to $699.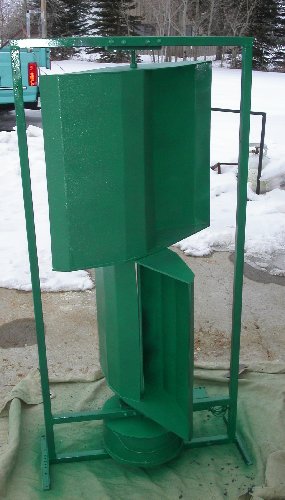 Questions? Call 800-658-8745
Vertical axis Airfoil enhanced Savonius turbine
Support Frame included
Built of Tough Impact Resistant Plastic

Incredibly strong yet light design.
Starts turning in 1 MPH wind.
Starts charging in 10MPH wind
Silent in wind speeds to 25MPH
Total swept area of 36 inch X 24 inch

Low friction ball bearings top and bottom
Can be installed by single person

Bird friendly low RPM design
Permenant Magnet Axial flux alternator.
No brushes to wear out or service
No brush related electrical noise
Easy UPS Shipping
---
Example Uses

Campers
Mobile computer charging in remote locations
Small scale lighting
Pumping
Portable computer charging in field or forest
Extended use of Instruments or Telemetry
Signs & Lighting
Signal repeating

Easy Installation

Bolt to banister
Clamp to pole
Tie to a fence post.
Even clamp to top of car roof
Clamp to boat mast
---
When the sun isn't shining the wind is normally blowing.
This small wind turbine has big features that make it ideal to augment Solar Photo Voltaic (PV) systems.
---
Savonius turbines are well known for high torque, silent operation and robustness. This robust unit is designed around our high strength proprietary plastic design retains the heritage of strength while providing optimal performance. This turbine incorporates modern design based on airfoils to maximize efficiency while a simplified mechanical model makes it strong winds.
This turbine starts turning in 1 MPH winds and provides high torque even in low winds. This makes it ideal for locations where the wind is erratic and turbulent.
---
Bird safe
An advantage of the Savonius turbines is that they turn slower than their horizontal axis propeller based relatives. Even in high winds the unit is turning slow enough to avoid injuring a bird.
Low noise
Wind turbine farms have a terrible reputation for noise. Part of this is caused by the lift based designs of the propellers which turn the propellers at speeds substantially higher than wind speed. This unit is nearly silent. In 25 MPH winds I could hear no noise at all from the unit. At 30MPH there is a slight sound of rushing air as it blows through the center cavity since it is accelerated like a Venturi through the center.
---
Power Output
Our Power estimates use a CP (Coefficient of Power) of 0.27 although our design may be a bit higher. It uses a assumption of a electric generator which is 85% efficient and that the bearings and gears are 95% efficient.
| | | | |
| --- | --- | --- | --- |
| Wind Speed MPH | meter per sec | Power out in watts | Amps @ 12V |
| 10.0 | 4.5 | 6.7 | 0.6 |
| 12.0 | 5.4 | 11.5 | 1.0 |
| 14.0 | 6.3 | 18.2 | 1.5 |
| 16.0 | 7.2 | 27.2 | 2.3 |
| 18.0 | 8.0 | 38.8 | 3.2 |
| 20.0 | 8.9 | 53.2 | 4.4 |
| 22.0 | 9.8 | 70.8 | 5.9 |
| 24.0 | 10.7 | 91.9 | 7.7 |
| 26.0 | 11.6 | 116.9 | 9.7 |
| 28.0 | 12.5 | 146.0 | 12.2 |
| 30.0 | 13.4 | 179.6 | 15.0 |
At speeds above 40MPH the efficiency drops off which is part of the design to help protect the unit from damage in high wind speeds. As a result calculations for wind speeds above 40MPH would be inaccurate. These estimates are based on a university formula not empirical test results. A CP of 0.27 was used with a 85% efficient generator and 95% efficient bearings.
DC power cables experience voltage drop more severe than AC wiring. In general it requires larger wires to carry DC power than AC power. For this reason most installations keep the DC wires under 20 foot long. DC wires that are too small and which are carrying too much current will overheat and should be avoided.
---
Axial Flux Alternator
Generating usable power in low wind speeds is a challenge. XDOBS has designed a special alternator using very powerful permanent magnets which can produce 12 Volt output at speeds as slow as 60 RPM.
This alternator does not use any brushes so there is none of the electrical noise commonly associated with DC generators. There are no brushes to wear out which makes the unit more reliable for remote and hard to service locations. Servicing brushes in generators is one of the more onerous repetative service aspects of power generators which this design eliminates.
Unlike most auto alternators which use part of the power they generate energize field coils this alternator uses more expensive permanent magnets which makes the system more efficient by saving the energy normally invested in the coils. In addition it eliminates the need to pass power back into the moving turbine which eliminates the need for the brushes.
A solid state rectifier is used to convert the AC voltage to DC pulsed output. As a result the alternator outputs a variable voltage and variable frequency. The voltage goes up as wind speed goes up as it is directly dependent on the current RPM. The variable voltage is generally not a problem however some devices are sensitive to voltage and frequency. When used to charge batteries the batteries them selfs act as a filter absorbing the pulsed DC input and turning it into a constant DC output.
In strong winds the power output is substantial and could overheat some batteries. It is a wise precaution to use a charge controller to maximize battery life.
Check elsewhere for PMG (Permenant Magnet Geneators) and you will find they start at $380 which is more than 1/2 the cost for our entire unit including the turbine and the generator.
---
Special Options
Charge & Current controller - Add on option may be ordered with turbine. These controllers sense turbine speed and adjust current flow to allow optimium blade speed which can be very helpful in lower wind speeds. It also senses coil temperatures and prevents excess current from being drawn off the unit during high wind speeds. Finally is senses the battery voltage and switches over to trickle charge when the battery if full. It automatically routes the excess power to a second cable output which can be used to feed secondary applications such as pumps, fans, sign lights, etc.
A charge controller for very sensitive instruments is available. This controller alternately charges two separate battery banks and switches the load between them such that the load is completely isolated at all times from the pulsed DC input charging from the alternator. This eliminates any background noise that could effect very sensitive measurements.
Extended Cables. Base unit comes with 2 meters of UV resistant electrical wire. User must supply wire to run from that point to the batteries. XDOBS can add up to 20 meters of additional UV resistant wire.
Custom sizes available. These units can be ordered in sizes from 12" X 12" up through 90 X 180 inches. Narrow turbines turn faster while wider turbines provide higher torque. The axial flux alternator is designed to work with the speeds commonly provided by a 20" to 24" wide turbine.
Default color is off white cream. Specify desired color at time of shipment. Choose from any valid Kyrlon or Rustoleum paint color.
Volume discounts start at 10 units.
Alternate Plastic Polycarbonate is a clear plastic that is incredibly tough and UV resistant. Some people prefer a clear turbine which we can accommodate but it polycarbonate costs an addition 30%. Some people prefer bright fluorescent or mirrored turbines. We can produce these with special acrylic plastics at 50% additional.
Back lights installed turbines which are installed with signs.
Reversed generator allows AC power to be delivered on the turbine blade to use for sign lighting.
Conditions:
Shipping box is approximately 46" X 12" X 26" and weights about 50 pounds.
Shipping generally runs about $130 but can be extra depending on location. for International, Alaska and Hawaii.
Each unit is custom made when payment is received. In most cases items are shipped within 1 week of order. During times of heavy order volume we tend to become backlogged and it may require up to 9 weeks to ship order. If your unit is for Christmas or Birthday let us know and we will try to expedite.
We buy parts for your turbine and as such there is a 50% fee for returned items.
Using a Tower will increase the wind speed the blades are encountering. According to some text books each 60 foot of elevation off the ground will yield 2MPH increase in wind speed. Our frame assumes you will be installing the turbine frame directly supporting rail or pole.
Installation needs to be above any near by fences or at least 150 foot away from the nearest building when ground installed. May be installed closer but efficiency may suffer.

The mounting frame is easily adapted for tower top installation but we feel that the ease and simplicity of ground based installation may make it better to install more turbines instead.
Moving water packs a incredible punch so even our super strong design may not withstand floods where moving waves hit the unit. Hurricane driven waves and tsunami will invalidate any warranty and are likely to destroy the unit.
This charger is capable of producing large amounts of power especially in high winds. It is recommended that a charge controller be used to limit charging current to the battery bank if used for extended periods of time.
One year warranty on parts and labor. Warranty include repair or replacement. Liability is limited to replacement cost of the unit. Warranty service is performed at factory. User may pay freight to return unit to factory. User may request some parts to be replaced in the field which XDOBS may approve in lieu of returning entire unit for service. Warranty void if unit is exposed to hurricane force winds or other extreme weather phenomenon. Warranty void if unit is dropped from more then 3 foot.