Prototype of new design for 2008. Intended to improve efficiency and reduce fabrication costs.

Video of turbine in 2.5 MPH winds More videos below or see components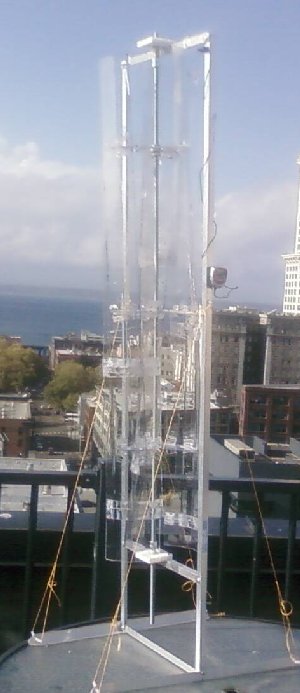 This turbine was made from scrap PETG which I had to glue end to end. As a result ended up slightly out of balance. This can cause a slight wobble. This is not a problem is production units since the plastic is all brand new and fully balanced. The frame was made from light weight aluminum which is not sufficiently rigid and ends up amplifying the wobble unless braced. Production units normally use a heavier gauge steel tube frame but the aluminum is nice to carry around for local testing.

PETG is not long term solar stable so it would have to be painted for long term outdoor use. We can use Polycarbonate if long term outdoor use with the clear material is desired.